Canada Water Technology Exchange
Nankia University of China now has both an L100 and an L50 model of the PeCOD Analyzer, thanks to the Canada Water Technology Exchange (CTWX)! CWTX is a non-profit organization established at the University of Guelph in Ontario with the aim to internationalize Canadian environmental technology. CWTX's mission includes 3 main points that are:
Advance research and development within the environmental science, sustainability, and engineering sector between Canadian universities and international research institutions
Encourage communications and relationships between students and professors, both internally and internationally
Promote cutting edge technology for water and environmental sustainability internationally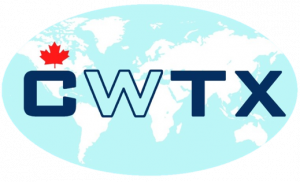 CTWX originated due to very close relations between the University of Guelph and many of China's top research institutes, agencies, and universities. CTWX consists of 37 professors from 22 universities in Canada who are closely connected to the Canadian Society for Civil Engineering (CSCE). In 2015, CWTX signed a Memorandum of Understanding between Tianjin Binhai New Area, China Association for International Exchange of Personnel, Nankai University, and the University of Guelph. You can visit the CWTX website here for more information on their organization.
Environmental Issues in China
China is home to the largest and fastest growing market for environmental technology. The market is estimated to be valued at over $77 billion dollars. China began their 13th Five-Year Plan in 2016, to promote environmental protection, and the creation of clean energy. In 2017, a zero-tolerance rule for pollution control was launched in the Beijing-Tianjin-Hebei region to enforce pollution control for roughly 62,000 companies.
Air pollution is one of the most serious environmental issues China is facing. The 13th Five-Year Plan requires all cities to achieve "good" or "excellent" air quality for 80% of the days by 2020. It also focuses on reducing the emission of volatile organic compounds by 10% over the next 5 years. Rapid economic growth in China has caused serious air pollution. There have been many findings of correlations between exposure to air pollution and lower life expectancy, increased cardiorespiratory failure, and even decreased mental health.
The 13th Five-Year plan also includes a higher standard for the discharge from wastewater treatment plants in order to protect sources of drinking water. The standard method for COD testing of wastewater uses highly toxic and environmentally unfriendly reagents, such as potassium dichromate, concentrated sulfuric acid, and mercury sulfate. Due to the toxicity and hazardous nature of these reagents, Japan has already stopped the use of this method. With the recent introduction of the PeCOD technology at Nankai University by CWTX, China has the opportunity to see how the fast, accurate, and green PeCOD method can assist in their efforts to reduce wastewater discharge.
How can the PeCOD help?
The PeCOD Analyzer can measure Chemical Oxygen Demand (COD) in only 10 minutes, while the current method requires a 2-4 hour reflux time. The PeCOD also has a very strong correlation to Biological Oxygen Demand (BOD) and Total Organic Carbon (TOC). Biological Oxygen Demand is a common measurement for organic pollutants in water; however, it requires 5 days to complete.  Total Organic Carbon is a measurement that indicates the natural organic matter (NOM) in drinking water. The PeCOD Analyzer offers "simple, optimized TOC" with improved sensitivity compared to the Total Organic Carbon measurement. More information about the PeCOD Analyzer can be found here.
China is the largest textile industry in the world and is responsible for a very large percentage of both greenhouse gas emissions and water pollution in China. Polyester, one of the most common fabrics used, requires mass amounts of crude oil, and released volatile organic compounds and acid gases into the atmosphere. Wastewater produced by textile manufacturers also contains hazardous materials, such as volatile monomers and other by-products. For many years, China has also been the largest beer producer in the world. New regulations in the brewery industry have been implemented due to its severe pollution, and low energy and economic efficiency.
The PeCOD Analyzer is the best solution for local factories in the textile and beer production industries to monitor and control their wastewater treatment and effluent discharges. The PeCOD can help protect the environment, public health, and meets regulatory standards such as the ASTM International Method D8084, and the Health Canada Guidance on drinking water. The PeCOD can also be applied to other industries such as pulp and paper, drinking water, and petrochemical. With the help of the CWTX, the University of Guelph and MANTECH Inc. have been able to create conducive relationships with China's major environmental research industries. Canada is known for its development of global leading clean technology and environmental technologies for water treatment and analysis and is now able to expand its market internationally.
Sources
Liu, W., Xu, Z., Yang, T. (2018). Health effects of air pollution in China. Int. J. Environ. Res. Public Health. 15(7). Doi: 10.3390/ijerph15071471
Chen, Y., Ebenstein, A., Greenstone, M., Li, H. (2013). Evidence on the impact of sustained exposure to air pollution of life expectancy from China's Huai River policy. Proc. Natl. Acad. Sci. USA. 110(32), 12936-12941. Doi: 10.1073/pnas.1300018110
Luz, C. (2007). Waste couture: environmental impact of the clothing industry. Environ. Health Perspect. 115(9), 449-454. Doi: 10.1289/ehp.115-a449
http://www.chinawaterrisk.org/opinions/how-green-is-your-beer/
https://www.scmp.com/news/china/economy/article/2143938/chinas-once-booming-textile-and-clothing-industry-faces-tough
https://www.export.gov/article?id=China-Environmental-Technology
Author: Laura Martin, Quality Control and Research Chemist