The Spring 2019 edition of Paper Technology International journal showcases the peCOD technology and how it is improving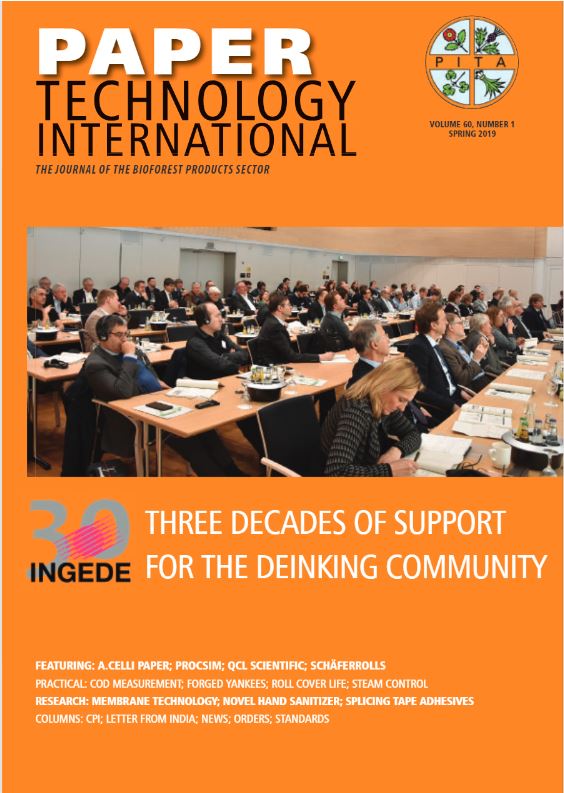 mill performance, wastewater treatment, and health and safety. Results from a recent EUREKA international research project have proven peCOD as a new method for measuring Chemical Oxygen Demand (COD) that is faster, safer, and greener than the conventional dichromate method. The main objective of the EUREKA project was to develop new technologies to reduce hard-to-break-down COD, also known as recalcitrant COD, in water-intensive industries like Pulp & Paper.
Follow this link to view the full article on pages 10-13 of Paper Technology International's spring edition.
Below is an excerpt from the article focusing on the Impacts on the Pulp and Paper Industry:
Success from the trials performed within this project, as well as from other projects in different applications, helped develop the Benchtop L100 into a commercially available tool for COD monitoring. This project confirmed the strong correlation between peCOD and CODcr and helped solidify the applicability of peCOD in the pulp and paper matrix, for COD monitoring.

With strong peCOD to CODcr correlations proven at primary and secondary treated effluents, as well as other points along mill operations,  peCOD can be used to effectively measure COD from multiple points along the pulp and paper process. By adding a battery pack and carrying case, it can also be used as a portable unit to easily measure at different locations within the mill. By allowing closer process monitoring, the peCOD technology has further reaching sustainable impacts through energy and chemical reductions. It is a relatively inexpensive and simple method, considering the difficult nature of the pulp and paper matrix.

The transnational project proved the peCOD method as an accurate COD monitoring tool in the pulp and paper wastewater industry, and users are now proving its value. In addition to the pulp and paper mills, supporting pulp and paper companies are using peCOD for service, troubleshooting, and commercial wastewater treatment.