Food & Beverage Industry: Soft Drink
PeCOD® Case Study 19
Download the PDF here.
The peCOD (photoelectric Chemical Oxygen Demand) method for COD analysis is well suited to the soft drink industry as it provides plant operators with quick and reliable COD results important for process monitoring and control. Continuous COD monitoring of wastewater can protect production plants by ensuring COD discharge levels meet the acceptable limits, and by detecting product leakage. It can also be used for quality control purposes to monitor sugar content.
The following case study explores COD analysis of orange juice and carbonated sodas (Sprite, Coke and Dr. Pepper) which were de-carbonated before being diluted to ensure accurate sampling. The samples were diluted 100-fold prior to testing; and sampling for both methods occurred from the same diluted container. Samples of both filtered and unfiltered orange juice were analyzed in case of interference from pulp. The Samples were analyzed in yellow range and results were compared against dichromate. A duplicate analysis was completed for each sample.
Table 1: COD values obtained for various soft drink samples using dichromate analysis and PeCOD® analysis: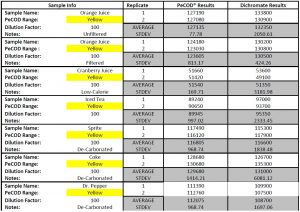 This study demonstrates that the results obtained by the PeCOD® closely match those obtained by the dichromate method, but with superior precision.  Additionally, the peCOD results are obtained in a fraction of the time required for dichromate analysis. While both BOD and COD are core tests that are an integral part of any water quality management program, waiting five days for BOD results is unrealistic as by the time the results are available, it is too late to rectify the problem.  While the dichromate COD test is an improvement in speed over the BOD method, it still takes at least three hours to run and requires the use of hazardous chemicals.
The peCOD method for COD analysis provides reliable results faster than the dichromate method, and without the need for hazardous chemicals. For a soft drink manufacturer or bottling plant, monitoring COD in the effluent via the peCOD method will help to detect product leakage quickly, avoiding product loss and preventing environmental breaches which can lead to hefty fines.