We're Here to Help
Call on our team of skilled Technical Representatives to assist with troubleshooting, diagnosis, repairs and more for your MANTECH analyzer.
For sales and service agreement inquires, visit us here.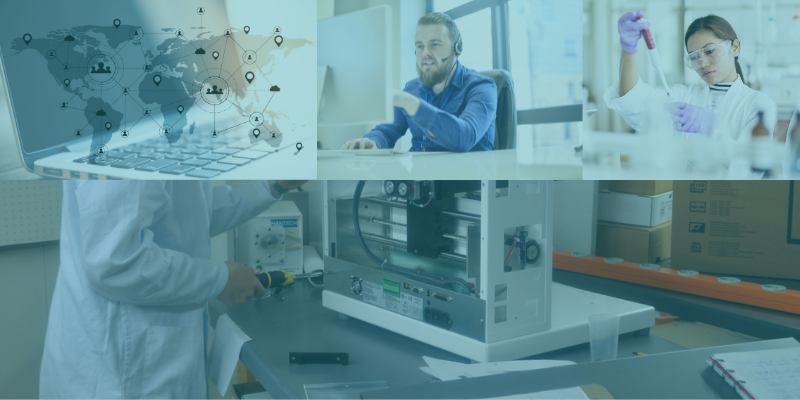 What You Can Expect When Submitting a Ticket
Less than 24-hour response to your request
1-on-1 troubleshooting with MANTECH's Technical Support Team
Remote connection diagnosis
Available in-field Technical Representatives
Hours of Operation: Monday – Friday 8AM – 4:30PM Eastern Time (ET)
Submit a ticket for technical support assistance.
How MANTECH Supports Our Valued Customers
As an end-to-end manufacturer, when you need assistance, you are talking to the team that designed, manufactured and coded all the hardware and software. We call on our team of developers, engineers, North American in-field Technical Representatives and global distribution network to diagnose and troubleshoot for our customers either virtually or in-person.
On-Demand Remote Connection
We are available to connect remotely to your instrument computer to answer questions, resolve challenges, and assist with any custom requests.
Express Module Shipments
To mitigate downtime, our modular plug & play design allows us to express ship loaner or exchange modules while repairing system components.
MANTECH Customer Feedback
[Our MANTECH systems] are well and producing great analytical results that pass our rigorous quality assurance milestones. The technical support team of the company is readily available for troubleshooting and resolving any issues almost immediately, which is indeed a great experience for us."
– Dr. Uttam Saha, University of Georgia- Agricultural and Environmental Services Laboratories
"Carter and Kevin worked very diligently to get the instruments up and running. They also worked with me to customize the scripts,  report templates, and create CSV files to import to the software and create the runs. I was able to perform a run on my own the very next day. Kevin helped me work out some other details and I believe from now on all will work as we want it. Again, Carter and Kevin were great!!! I am very happy with the service of the instrument and with the technical support I have received."
– Jacqueline Ramos, Chemist, Lee County
"Thank you for all of your good wishes. We are diligently still working in our lab here at Aqua to keep our drinking water safe (during COVID-19 crisis).  The MT-100 is working hard also as well as the  free ammonia and bod systems. A big shout out to MANTECH for always being there to help me out with instrument questions."
– Linda Shebby-Tracy, Chemist, Aqua Penna Inc.