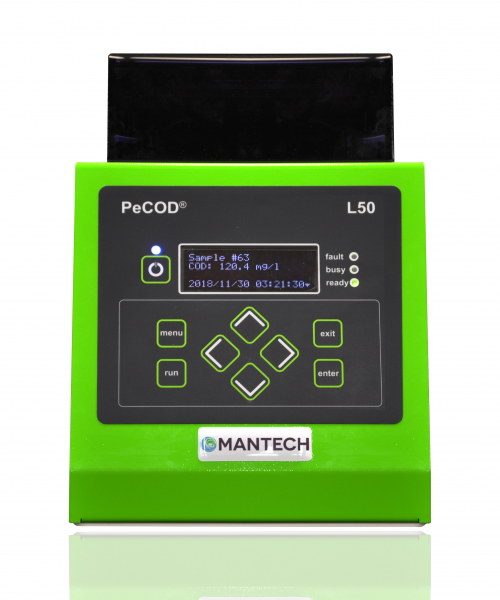 Fast, green, accurate Chemical Oxygen Demand analysis
MANTECH's revolutionary PeCOD® COD Analyzer technology provides accurate chemical oxygen demand (COD) results in 10 minutes — without the use of harmful chemicals including dichromate and mercury. Highly adaptable for wastewater and drinking water applications, the PeCOD® COD Analyzer's patented nanotechnology-based approach to COD analysis will save you time and money while protecting the environment and the health and safety of your workers.
Models and Specifications
MANTECH is excited to announce that the release of the PeCOD L50 Model! See here for more details.
The L50 is a direct replacement for the L100 shown in previous videos and pictures.  The L50 offers a simpler, industrial and robust design, with improved pricing over the L100.  Contact us for more information.
The PeCOD®  COD Analyzer is available in laboratory, portable and online configurations that are highly customizable. The peCOD system can be configured to accommodate laboratory operations, automated sampling, or continuous process monitoring.
I am PeCOD® user, I am happy using your product. I would like to congratulate your team for the approval of PeCOD® method in Canadian MOE. I am happy with your technical support. Thank you.
The PeCOD® is very user friendly and accurate, Though for me the best aspect of the PeCOD® is how fast the test is! This revolutionary piece of equipment is a fast but powerful way of COD analysis, giving consistent and quality results every test!
Speed of [PeCOD® COD] results creates a more efficient process and really drives clean compliance for us which is critical.
All of our systems can be customized to suit your needs. Contact us for more information.
Case Studies
View all peCOD case studies
Frequently Asked Questions
Learn everything about peCOD