Revolutionary Technology for Wastewater Treatment Analysis in Industrial and Municipal Facilities.
The PeCOD® Analyzer provides accurate chemical oxygen demand (COD) results and biochemical oxygen demand (BOD) estimates within minutes rather than the hours or days required for standard COD and BOD testing — without the use of dichromate, mercury, acids and other harmful chemicals.
MANTECH's PeCOD® Analyzer is available in portable, online and laboratory configurations that can be easily customized. The PeCOD® system is simple to use for any laboratory or operations staff member at any point in time.
That's why leading manufacturers and utilities are turning to PeCOD® — because time is critical when making decisions that impact public health and regulatory compliance, as well as optimization of wastewater treatment processes and facility operations.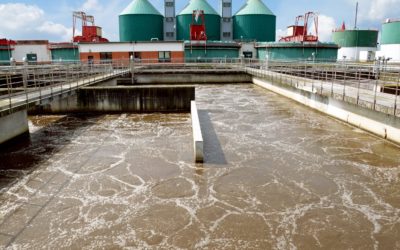 The faster, greener alternative for municipal wastewater monitoring
In a research project supported by the Ontario Clean Water Agency (OCWA) and the Region of Peel, MANTECH put its photoelectrochemical Chemical Oxygen Demand (peCOD) method to the test in real-world conditions at a Wastewater Treatment Facility near Mississauga, Ont.
An abstract of key findings from that project was presented at the 2017 Water Environment Association of Ontario (WEAO) annual conference in Ottawa.
The study demonstrated that the real time data provided by MANTECH's PeCOD® Analyzer enables municipal wastewater treatment operators to make quick decisions that enhance environmental protection and generate substantial savings on chemical and energy use.
Learn more about PeCOD® municipal wastewater solutions.
Saving time and money for industrial wastewater treatment facilities
PeCOD® technology is well-suited for use by industrial wastewater treatment facilities that demand fast, reliable results and easy-to-use systems for treating bulk wastewater from multiple industries including automotive, steel, chemical and dairy facilities.
In a recent study, the PeCOD® Analyzer was deployed by a Clean Harbors Canada's industrial wastewater facility in Guelph, ON. The plant uses heavily refined chemical precipitation processes to remove heavy metals, suspended solids and organics to generate safe effluent for discharge into the municipal water treatment system.
Results of the study showed a strong correlation between the green, 10-minute PeCOD method for testing chemical oxygen demand (COD) and standard dichromate COD (CODCR) and five-day BOD (BOD5) methods. By providing real time COD analysis and reliable BOD estimates, PeCOD® has helped Clean Harbors save money and increase profits while improving workplace health and safety by eliminating the use of dichromate, mercury and concentrated acid required by standard testing methods. To learn more, read the case study.
"The speed of [PeCOD® Analyzer] results creates a more efficient process and really drives clean compliance for us, which is critical."
– Ian Culverwell, General Manager, Clean Harbors, Guelph
Partners in research
McMaster University has been using an automated PeCOD® Analyzer as a part of their industrial wastewater research since 2015. Our automated system allows them a hands-free approach for continuous sample analysis, including: preset calibrations before the start of each work day, continuous analysis of 73 samples and routine quality checks between samples to ensure system performance – all without supervision.
"My research team at McMaster has been collaborating with MANTECH for almost two years now on the application of PeCOD® Analyzer technology for wastewater treatment applications. It has been a truly rewarding experience with numerous positive outcomes including a presentation at the Canadian Water Resources Association conference, one student winning an award from the Water Environment Association of Ontario, and the discovery of exciting new research directions."
– Dr. David Latulippe, McMaster University