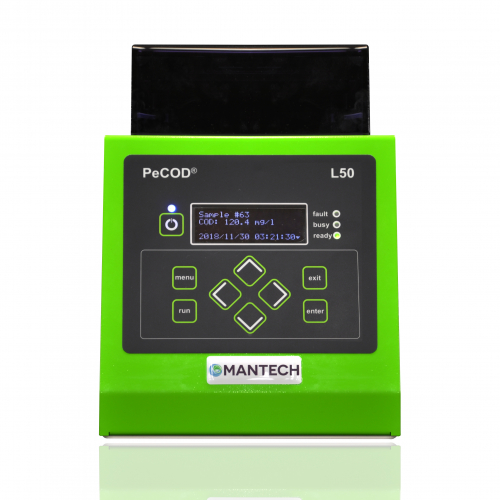 Drinking Water, Fully Characterized
MANTECH's revolutionary PeCOD® Analyzer technology measures the chemical reactivity and associated oxidative changes in Natural Organic Matter (NOM). As a result it is more sensitive than Total Organic Carbon (TOC) and UV254 to changing NOM concentrations in source and treated drinking waters. For this reason, the PeCOD® can be implemented as an "Optimized" TOC Analyzer, providing a critical indication of the oxidizability of the organic carbon in a water sample.
Follows ASTM International approved method D8084
Models and Specifications
MANTECH is excited to announce that the release of the PeCOD® L50 Model! See here for more details.
The L50 is a direct replacement for the L100 shown in previous videos and pictures.  The L50 offers a simpler, industrial and robust design, with improved pricing over the L100.  Contact us for more information.
The PeCOD® Analyzer is available in laboratory, portable and online configurations that are highly customizable. The PeCOD® system can be configured to accommodate laboratory operations, automated sampling, or continuous process monitoring.
Our Annacis Research Centre researchers have remarked that PeCOD® produces results very quickly, which allows them to complete research more rapidly. They have also been impressed with the fact that it doesn't use harmful chemicals, reducing safety risks to researchers and to the environment. They have also found that the PC Titrate equipment is very effective. It gives extremely accurate results, is well designed, and works automatically, saving researcher time. We are thankful to the University of British Columbia and MANTECH for the donated equipment, and look forward to its role in advancing research in the region.
Aurora Water (Aurora, CO) has been analyzing low level chemical oxygen demand (COD), at source and drinking water levels, using the photo-electrochemical PeCOD® instrument as part of Water Research Foundation Project #4555. We are excited to have a rapid method available to determine low level COD, and look forward to further understanding how the information that is gathered may help with operational decision making and treatment optimization.
CWRS has been experimenting with PeCOD
®
applications since 2011. These applications have included monitoring of wastewater in Northern communities, and source and treated drinking water monitoring. Most significantly, the PeCOD
®
has been able to give our group additional insight into drinking water biofiltration performance by quantifying organic matter removal across biofilters that was largely unrealized by measuring dissolved organic carbon alone. PeCOD
®
is now being integrated into many of our projects that require a measurement of natural organic matter.
All of our systems can be customized to suit your needs. Contact us for more information.
Case Studies and Resources
Frequently Asked Questions
Learn how peCOD is being used in industry