What is Biogas?
Biogas is a type of biofuel naturally produced from the decomposition of organic waste. When organic matter, such as food scraps and animal waste, breaks down in an anaerobic environment (without oxygen), a blend of gases, primarily methane and carbon dioxide, is released.  With a global turn towards sustainable renewable energy sources, biogas' renewable and clean source of energy certainly fits the bill.  The waste required to generate this energy surrounds us every day. Gas that is generated through bio digestion is non-polluting and reduces greenhouse emissions (i.e., reduces the greenhouse effect).
Biogas Optimization
Operating a biogas plant requires oversight to ensure optimization and attention to toxicity.  The operating manual from the USEPA illustrates that TS, VS, pH, Total Alkalinity, Temperature and CH4 are critical parameters, essential in determining system performance and efficiency. This is mostly covered by 2 analytical techniques, Chemical Oxygen Demand (COD) (CH4) and Total Alkalinity Titration (VS, pH, Total Alkalinity).  The alkalinity titration is used to determine Volatile Fatty Acid=VFA and/or volatile organic acids (FOS) and total inorganic carbon (TAC) (i.e. carbon buffer capacity from TAC).
One Solution for COD and FOS/TAC
In British Columbia, Canada a local winery operates a biogas plant to produce energy gathered from its agricultural and production waste. This plant was in need of a simple, safe and sustainable solution for COD and FOS/TAC.  The traditional 3-hour method of testing COD utilizes a dichromate and mercury-based acid digestion, deeming it unsafe for operators and a risk to product protection. With unsafe chemicals, and a long wait time to generate results, MANTECH developed the 10-minute PeCOD COD analyzer based on a safe and green photocatalytic method utilizing an electrolyte (salt) solution.
B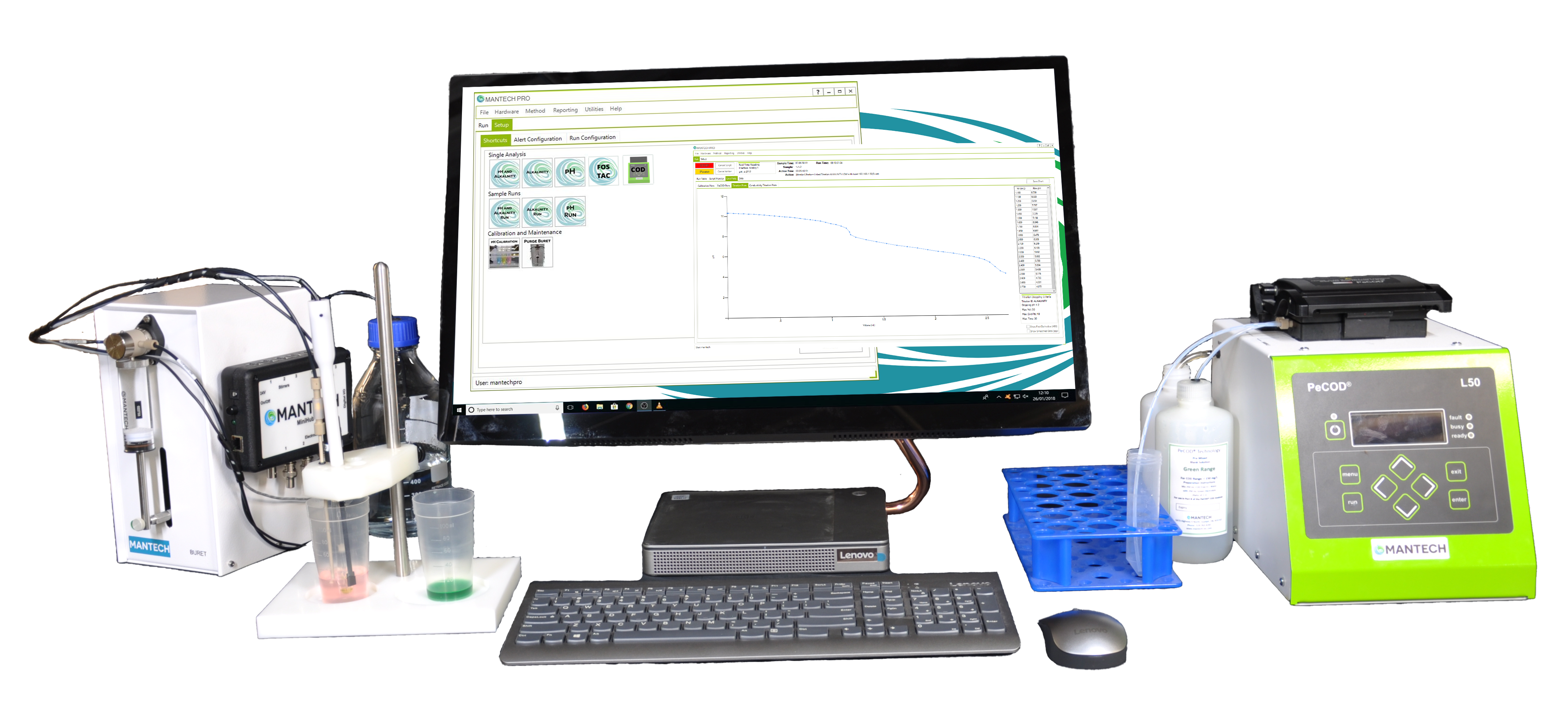 y employing a quick homogenization method of 1-2 minutes, no filtering is required (even in sludge waste material!). A typical PeCOD COD result for the winery digester influent and effluent was 7,000ppm and 200ppm respectively, exactly where it was expected to be. By employing MANTECH's single station application-based PeCOD and MT5 analyzer, COD and FOS/ TAC results are available in 5-10 minutes, leading to impactful and sustainable decision making for its operators.
Both the PeCOD (for COD analysis) and the MT5 (for FOS/TAC analysis) utilize the MANTECH designed and coded MANTECH Pro software. Through the software operators now have a single walk-up analyzer providing them with fast and accurate COD and FOS/TAC (VFA) results. Operators are also able to walk away from the analyzer while samples are being tested, as the MANTECH Pro software will send an e-mail notification once the results are complete. MANTECH's biogas package delivers a sustainable practice for a sustainable process.
Interested in MANTECH's Biogas Analyzer package for COD and FOS/TAC?
Fill out the form to get in-touch with our team for more information and quotations.