Determining the color units (CU) where 1 CU equals 1ppm of platinum
Method Abstract #121
Scope and Application
This method conforms to Standard Method 2120 C and EPA Method 110.2.  It determines the color units (CU) where 1 CU equals 1ppm of platinum.  Color is used as a general indicator of the quality of water.
Method Summary
This method employs an industry leading spectrophotometer completely controlled by the Man-Tech software including automated calibrations and audit trail. In general, 410nm is the selected wavelength; however, additional wavelengths may be used such as 455, 410 and 440 all while the sample is in the cuvette.
Sample Calibration Curve


Method Performance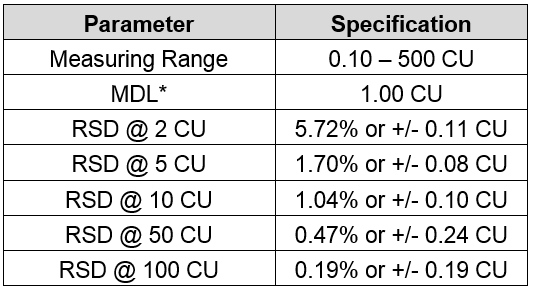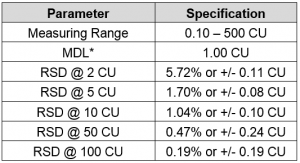 *The Method Detection Limit (MDL) was determined based on data obtaining a coefficient of variance better than 30%. Results may differ depending on laboratory practices and sample matrix.