Vitamin C
Method Abstract #87
Scope and Application
This method determines the ascorbic acid content of aqueous solutions. This method conforms to AOAC Official Method 967.21.
Method Summary
This method involves the preparation of a 2:5 solution of ascorbic acid and metaphosphoric acid-acetic acid. This is done by combining the ascorbic acid sample with metaphosphoric acid-acetic acid. The 2:5 sample solution is then titrated to an inflection endpoint with Indophenol. The ascorbic acid content can then be calculated.
Sample Titration Curve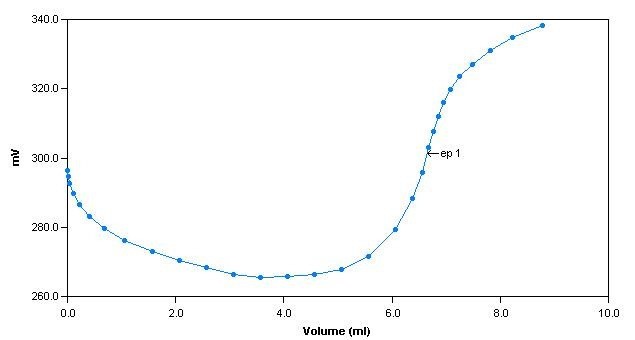 Method Performance

*Data for this measuring range was obtained using laboratory prepared standards formulated from potassium chloride. The measuring range may be increased by using auto-dilution.
**The Method Detection Limit (MDL) was determined based on data obtaining a coefficient of variance better than 30%. Results may differ depending on laboratory practices and sample matrix.