Rapid Dual Probe Soil pH Analysis
Soil pH analysis determines how well soil can absorb nutrients and water which is critical information to the agricultural industry. The process can be very time-consuming and complex to perform, which is not ideal for laboratories that need to analyze hundreds of samples. Many laboratories have already invested in automation to speed up and optimize this analysis process.
At MANTECH, we understand that each laboratory has a unique set of requirements for analysis which is why we offer highly configurable systems. One of these highly configured systems was installed for a customer in Oklahoma and features dual probes, custom racks and more to meet their needs. Although this system is used to analyze soil pH only, our systems allow more parameters such as soil conductivity to be added in the future. Watch this system in action!
Configure a system to suit your analysis needs: Contact Us
Durable Dual Probes

With multiple probes, more samples can be analyzed simultaneously, increasing throughput in the same amount of time! Depending on your desired throughput, MANTECH also offers single, triple, or quadra probe configurations.
This system features our TitraGuard electrodes exclusive to MANTECH. The TitraGuard is a high-quality refillable pH electrode with guards around the glass measuring bulbs to protect them from stones and other items often present in soil slurries that could cause damage measuring pH.
Customizable Racks
MANTECH gives our customers the freedom to utilize their preferred vessels with custom designed or off-the-shelf rack options.  For example, this customer opted for 8oz drinking water "Dixie" cups that are extremely cost-effective (only $0.03 per cup) and easy to source. A separate rack dedicated for performing calibration checks for this customer was designed to capitalize capacity on the sample analysis rack.
                                

Robust Autosamplers
MANTECH's automated systems are coupled with our quick, quiet, and precise AM400 series autosamplers. These robust autosamplers require minimal maintenance over time with self-lubricating axes, all completely sealed off from dust and debris. The AM400 series is available in 1 up to 5 rack options to increase autosampler bed capacity for high throughput laboratories. Analysts can truly set a run and forget it, leaving it to run overnight or step away with an automated email notification with results or when run is complete.
Rigorous Cleaning Station

Soil systems from MANTECH can be upgraded with our Jet Rinse station which shoots water from multiple angles to clean probes, dispense tips and stirrers. Clean water is delivered from multiple ports on all sides and multi-heights to the Jet Rinse station via an intelligent, software-controlled peristaltic pump, the IntelliPump™. MANTECH's IntelliRinse™ ensures all probes are cleaned by only proceeding if a specific conductivity threshold is met.
Intelligent Sample Preparation Pumps

Sample preparation is also performed by the IntelliPump™. This pump features IoT connectivity and communicates directly with MANTECH Pro software to establish connection and control flow rate. Its plug and play design allows for easy maintenance and upgrades as needed. The IntelliPump™ features 1% precision. For customers requiring more precision, MANTECH offers options to change this pump to MANTECH's IntelliDose™ dosing pump or 100,000 step buret.
User-Friendly Software
All MANTECH soil systems are controlled by modern and user-friendly MANTECH Pro Software which was designed for Windows 10 & 11 Pro OS. With MANTECH Pro, users can perform the following, even while the system is running:
Easily set up new runs with customizable shortcut buttons and templates.
Search and audit historical data.
Access the Help menu for guidance when navigating the software features. Also helpful for training new staff.
Get user-defined email notifications for run completions, event detections and more.
Add priority samples during an active run with only a few clicks.
Overall, MANTECH's MT30 Analyzer is an ideal system for soil analysis and offers the following benefits: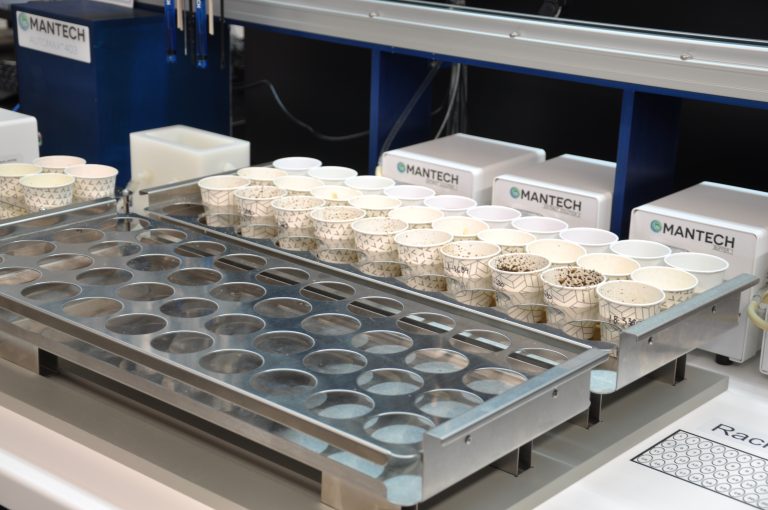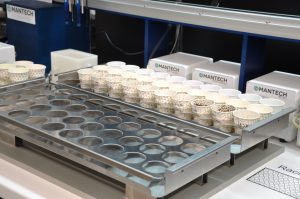 Multi-probe analysis.
Custom rack design options.
Rigorous probe cleaning station.
Modern and user-friendly hardware and software.
MANTECH's soil systems can be configured to automate the following:
ISO 10390 for pH in Soil, Treated Biowaste and Sludge
Lime Requirement via SMP Buffer Method
Organic Matter via Walkley Black Method
Neutralizable Acidity via Woodruff Buffer Method
Sodium Absorption Ratio
Soil Salinity
Mehlich III Extraction
Ready for automation? Send us a message through the form below: