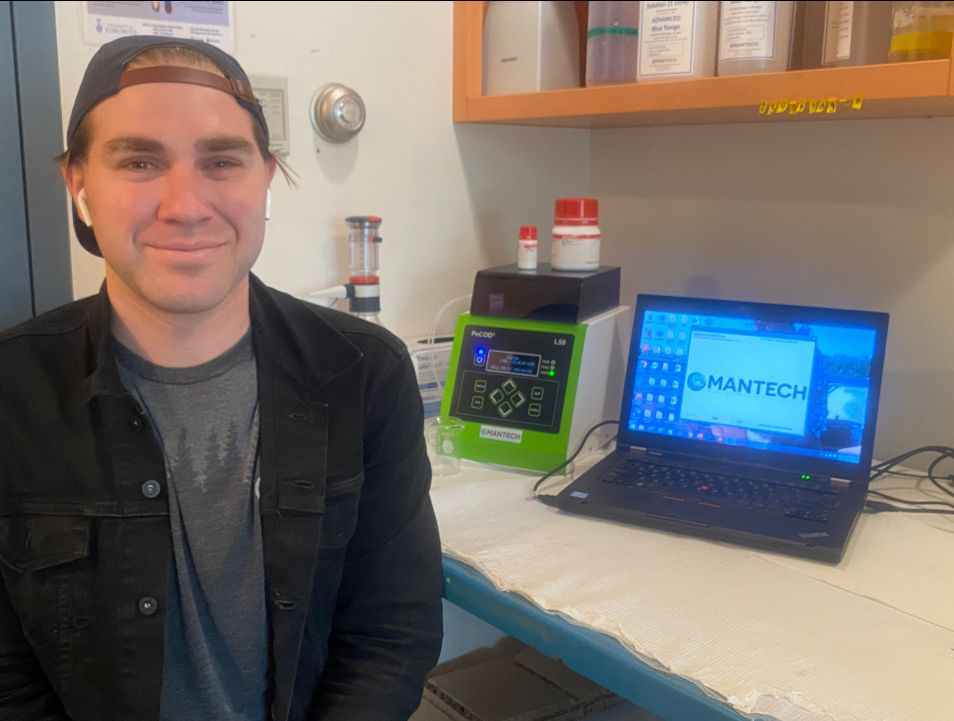 At the 2022 Joint Aquatic Sciences Meeting (JASM), M.Sc. candidate and Chemist at IISD-ELA, Blake Cooney (pictured right) presented his in-field research with MANTECH's PeCOD® analyzer testing the efficacy of EcoBioClean® (EBC) on heavy oil spills in freshwater. Remediation of affected areas is crucial for marine oil spills and EcoBioClean® is a lyophilized product consisting of nutrients, dispersants, and bacterial inoculants and aims to disperse surface sheen and enhance microbial degradation of affected areas. The IISD-ELA aims to protect and ensure the viability of freshwater lakes and to use that research and directly apply it to policy decisions that address global water issues. Together with MANTECH, the IISD-ELA has been able to broaden its areas of research along with improving the operational efficiencies of researchers in the field.
To study the efficacy of EBC, researchers simulated 12 freshwater ecosystems where they focused their efforts on the effects EBC had on polycyclic aromatic compounds (PACs) and alkylated PACs. (APACs) To aid in this pilot study, researchers used MANTECH's PeCOD® analyzer to help measure COD, nutrient data, and parent PAC data. By using the PeCOD, researchers were able to gain interpretable, accurate and quick preliminary findings.
In short, the study on EBC as a passive remediation technique was effective. Studies showed that EBC application in affected areas resulted in near-immediate dispersion of oil from surface to water column along with an increase in nutrient consumption and productivity. As well, it was observed that there were elevated PACs in the water of oil treatments that corresponded with higher COD for the first 10 days of exposure. While this study provided substantial preliminary results, future ongoing work can be conducted to explore this topic further.